Nisum VP, Prashant Sharma was featured in "Transformation Is a No. 1 Priority for Modern CIOs" in CIO Insights. For the full article, continue reading or read it on CIO Insights here.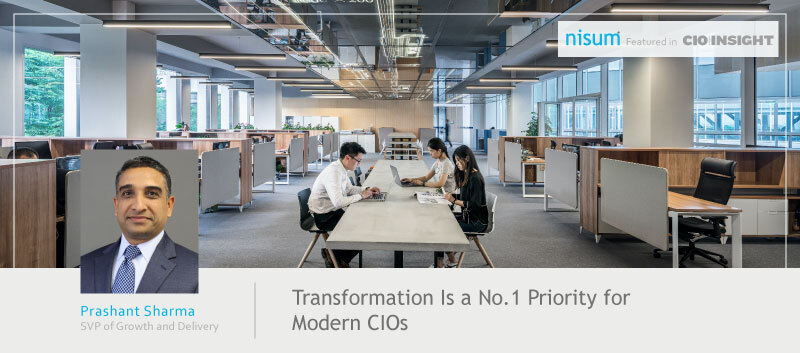 Today, businesses of all sizes, types and industries are facing a common challenge: digital transformation. Defined by MIT Sloan as "the use of technology to radically improve performance or reach of enterprises," organizations have bought in to the promise that digital transformation has to offer. However, given the confluence of economic, social and technological factors that have given rise to digital transformation, enterprises are still struggling with effective implementation and execution.
A recent CIO Executive Summit brought to light many of the common challenges today's enterprise CIO is facing when it comes to digital transformation, be it from a people, process or technology perspective. However, the good news is that many are in agreement as to some of the best practices for minimizing, and even alleviating, the pain points associated with digital transformation through a seamless transition.
First and foremost, digital transformation is a top-down process and must have executive buy-in at the highest levels from the outset. Furthermore, it is not an organic process. Proper planning, coordination and architecture must be in place in order for initiatives to be successful. The first step is to analyze possible improvements by launching a value proposition study, which involves a thorough audit of various stakeholders and users across the organization.
Setting a Digital Transformation Strategy
Many organizations often struggle with legacy systems that are siloed and clunky by nature, which is not conducive to digital transformation, for a couple of reasons.
First, siloed technology and processes often lead to siloed departments and ultimately, siloed data that keeps enterprises from functioning at their most agile, efficient and revenue-generating potential. This is an obvious negative. However, it is also key to note the effect that a traditionally siloed organization has on people and culture. For any digital transformation initiative to be successful, existing walls between business units and departments must come down, and employees should buy in to a culture of digital transformation. This demonstrates the importance of a top-down approach, as well the involvement of employees across the organization in determining priorities for change.
CIOs must also assess existing technology platforms, including all applications, hardware and infrastructure, and software licenses and partners. Some may be squeaky wheels, redundant, inefficient or ineffective in reaching goals laid out in step one. A technology audit will identify the changes required to existing infrastructure, including storage, network bandwidth and security.
One important question that remains unanswered is, what end does digital transformation bring us? For many at the Executive Summit, the answer was delivering a better customer experience. Digital transformation fosters a better understanding of customers through social media, online communities and advanced analytics capabilities, which in turn allows businesses to better serve their clients. For example, an insurance company can employ analytics-based underwriting and pricing to improve portfolios or cost structures while a retailer with multiple locations can adjust prices in real-time based on demand.
Digital Transformation, or How to Make Your Business Mobile
A better understanding of customers also helps sales to convert more prospects. Purchase history coupled with demographic and geographic data and powered by location-based and mobile marketing is game-changing for attracting new customers and retaining repeat customers. For example, Red Roof Inn used mobile location targeting and customized creative to reach people whose flights had been cancelled and were looking for last-minute lodging more quickly than their competitors could, resulting in a 375% increase in conversion rates.
Critical to the ability to executive such campaigns is a robust omnichannel strategy—and this was the biggest takeaway from the Executive CIO Summit. As people adopt an increasing number of online channels, both personally and professionally, organizations must be able to create seamless experiences for clients regardless of channel. It will be this ability to reach customers where they are, without disrupting user experience, that will differentiate those organizations that succeed with digital transformation, and those that are left behind.