Senior Director, Sajid Mohamedy was featured in "Ready To Implement An Omnichannel Solution? Five Factors To Consider" in Retail TouchPoints. You can read the full text below or on Retail TouchPoints here.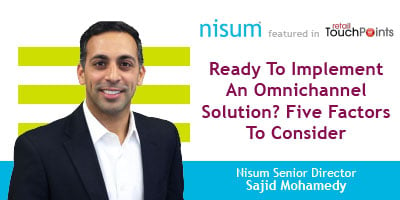 ---
Ready To Implement An Omnichannel Solution? Five Factors To Consider
Every retailer is grappling with the challenge of how best to create a seamless omnichannel presence. As the number of disparate, nonlinear touchpoints along the customer lifecycle journey continues to multiply, it's up to brands to figure out how to effectively connect with their customers at each juncture.
Consumers have more choices than ever when it comes to how and when they access e-Commerce brands, and while most retailers understand that omnichannel is a necessity, it's extremely difficult to have the proper architecture in place to gather, exchange and draw insight from various sources of raw data. Even the best omnichannel solutions in the world will prove useless without the proper organizational foundation in place.
Before potentially wasting millions of dollars on a "front-end only" omnichannel investment, business executives need to have the following foundational elements securely in place.
360-Degree Customer Insight
Omnichannel commerce has put customer insight at the center of the process. Consumers want the ability to engage with the retailer via a variety of channels, as well as the freedom to pick up where they left off on one channel and continue on another.
Technology has also made it possible for companies to know their customers better than ever. Brands can examine a customer's browsing patterns, past shopping history, buying behavior, social media interactions, and channel preference — and that's only the beginning.
A comprehensive customer profile can now be derived by linking customer transaction histories, interaction histories and insights gathered from across retailers' multiple brands, business units, and channels — far more than ever before. Combined with syndicated data in the form of demographics, gender, discretionary income, etc., this data provides the retailer with an extremely detailed picture of a customer's buying potential, lifestyle and preferred product lines, and even sensitivity toward price ranges.
Consolidated Product Catalog
Prior to web retailing, product attributes for a traditional brick-and-mortar store consisted of UPC, color, size, product ID, and product description. With the advent of e-Commerce, product attributes have evolved to allow for more efficient search, and now include far more customer-centric attributes: care information, place of manufacture, quantity at hand, product image, product video, and consumer description are just some of today's commonly used product attributes that have been proven to help consumers make more informed buying decisions.
However, most retailers have product information for their e-Commerce channel set up separately from their brick-and-mortar channel, and information remains in silos. When product data is shared across channels, retailers provide a more relevant experience for customers, no matter where they choose to shop. As a result, retailers must consolidate their product catalogs into a single version irrespective of the sales channel.
Cross-Channel Inventory Visibility
Now that consumers can shop for an item via a number of available channels, retailers must be equipped to immediately provide an item's availability and location, making inventory status a primary attribute for every product. While traditional product information systems weren't designed to handle inventory and location, in today's world that data is crucial for timely delivery. To effectively compete for consumers' business, retailers must have control of both real-time inventory and rich product information.
The consequences of poor inventory management can be devastating. Retailers routinely cancel orders placed online because a product reads as out of stock, only to find they still have the product at their physical stores, resulting in loss of revenue. Leveraging cross-channel inventory helps smart retailers avoid such scenarios. However, even today most retailers still have dedicated inventory for each channel as a result of implementing e-Commerce domains at a later stage than their physical stores.
Distributed Order Management
The distributed order management system is an e-Commerce engine responsible for managing information, executing processes, and monitoring performance to ensure customer orders are fulfilled accurately and cost-effectively across a complex network of sourcing and fulfillment processes. It delivers consistent functionality across channels so that consumers can use the same promotions, shipping choices, and other functions, without worrying whether or not a specific feature is supported on a given channel.
In order to execute this effectively, there must be inventory visibility across all channels, and a truly cross-channel view of inventory requires a scalable and robust back-end system that can provide inventory information to any platform — online, mobile or brick-and-mortar.
Fulfillment And Logistics
In a traditional supply chain, retailers order items from vendors, vendors ship them to the distribution centers (DCs) and DCs ship them to stores as needed. Under this model, whenever a retailer opened a new channel (e-Commerce, for instance), they would use a completely different supply chain in which the orders were fulfilled from a different DC, thus avoiding a complicated integration with their traditional model. This resulted in degraded customer experience between channels, duplicated processes, and unavailable inventory information at their DCs. Because channels were isolated, retailers were often unable to meet their required demands.
Omnichannel fulfillment must be carefully engineered so that retailers can hold just the right amount of inventory on a wide assortment of products, ensuring the right inventory is at the right store. Retailers must prepare by implementing an adaptable back-end system that supports such dynamic fulfillment requirements.
It's clear that omnichannel is the future of retail, however, rushing into it blindly can lead to counterproductive results and the inability to meet rising demand. Rather than taking a front-end-driven approach, retailers should embrace a holistic view, align front-end priorities with back-end needs, and work to create a long-lasting application platform that is agile in implementation and built to meet current and future business requirements.