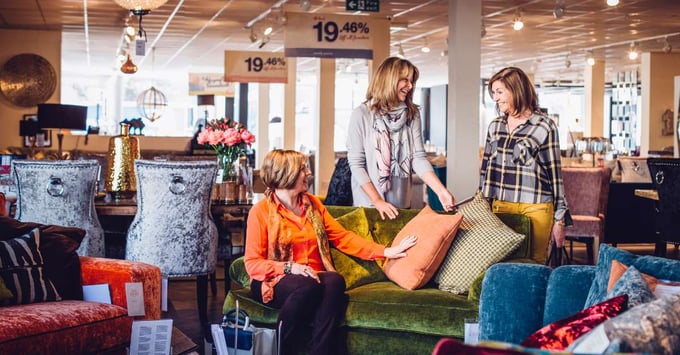 At the heart of a leading home goods retailer beats a mission that transcends the mere act of filling spaces. Their true aspiration is to craft meaningful experiences that would become integral to people's lives. Their core belief revolves around providing top-notch products and exceptional service. Yet, as they pursued their lofty goals, a hurdle emerged.
The B2B sales team, carrying the responsibility of creating customized solutions for each client, faced hurdles stemming from a labor-intensive and inefficient sales process. The process of communicating with clients and navigating through product details across six different brand platforms proved to be a time-consuming challenge that demanded a solution.
As leaders in digital innovation, we stepped in with a solution that transformed the way the retailer operated. By introducing a tailor-made cross-brand platform, we revolutionized the retailer's method of searching for products and fulfilling B2B orders. Our solution seamlessly integrated data from all six brands, constructing a centralized hub that all stakeholders could access instantaneously. By optimizing their sales cycle efficiency and granting easier access to inventory information, we empowered our client to enhance customer relationships and streamline operations, which resulted in:
+ 10%
increase in global B2B revenue
⬇
labor costs for B2B sales teams
⬆
customer satisfaction for B2B customers
Business Challenge
A leading home goods retailer faced challenges with their sales cycle and data efficiency. B2B sales teams had to manually search for information across six different brand platforms to locate inventory to fulfill quotes and sales orders. This labor-intensive approach caused frequent back-and-forth communication with clients, leading to:
Decline in the amount of B2B requests and sales

orders

that can be processed each day due to long sales cycles

Time-consuming product search

due to highly manual processes and a lack of communication between brands

Delay in quote generation

as a result of constant back-and-forth communication between major stakeholders and inaccurate inventory visibility

Increased labor costs

due to the laborious nature of cross checking between brand platforms

Lost B2B orders a

nd unsatisfied customers as a result of inefficient sales processes and slower than expected order processing times

Solution
Nisum successfully implemented a custom cross-brand platform that revolutionized the client's approach to product search and B2B order fulfillment. This solution unified data across all six brands and provided a centralized system for accessing information between all stakeholders in real-time, resulting in:
Increase in the amount of B2B requests and sales orders

that can be processed each day by drastically shortening the sales cycle

Reduced product search durations

due to the ability to access real-time product data across all six brands
Accelerated quote generation

as a result of faster communication and data accessibility between stakeholders

Reduced labor costs

by eliminating manual inventory checks and creating a more efficient ordering proces

Decreased risk of losing B2B orders and increased customer satisfaction as a result of more efficient and timely sales processes
---
Ready to transform your business like we did for this Fortune 500 retailer? Unlock the potential of seamless operations, elevated customer relationships, and remarkable business growth. Contact us today, and together, let's embark on a journey together toward streamlined excellence.