Nisum was named a Retail CIO Outlook Top 10 Tech Consulting/Services Company for eCommerce, and CEO, Imtiaz Mohammady, was featured in their eCommerce Service Edition cover story.
View the article here.
View the digital magazine here.
Read the full text below.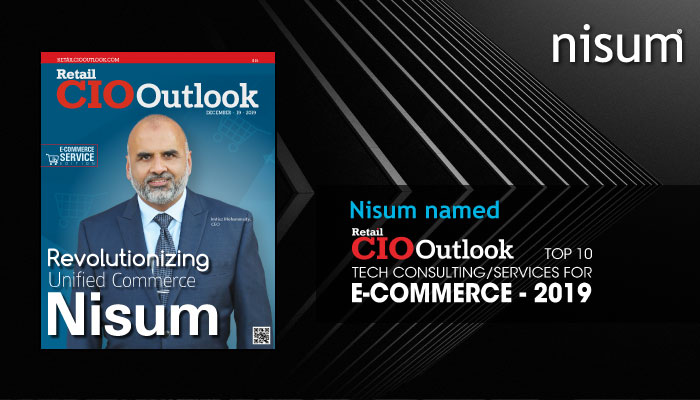 ---
Nisum: Revolutionizing Unified Commerce
The age of modernization in the retail industry began with the advent of the dot-com era, a dynamic phase of the digital revolution that piqued retailers' interest in the digital world's unexplored potential. As this ignited the onset of rapid digital transformation in retail, traditional retailers began to establish an online presence and traversed beyond the limitations of physical stores to reach out to a broader and targeted audience online. However, this shift also brought massive cultural and technical challenges with it, as understanding and optimizing the emerging technologies was still a major roadblock for traditional retailers. Moreover, even though many of them already had websites, they did not yield sufficient results.
Imtiaz Mohammady, the CEO of Nisum—a company that guides businesses through digital transformation—identified this roadblock and decided to develop solutions that would help retailers transform into e-commerce companies then, into unified commerce companies.
"From creating an online presence for retailers during the dot-com era to helping them integrate next-generation solutions like machine learning and AI into their technology stacks today, our ability to consistently deliver value to our clients comes from our commitment to staying ahead of the latest trends in retail technology and understanding how those trends can be best implemented to solve specific business challenges," said Mohammady.
Considering the changing dynamics of the digital commerce landscape, today Nisum continues to evolve its offerings and enable retailers to modernize their businesses through solutions that integrate in-store, online, and mobile platforms to provide a frictionless customer experience.
For many retailers, business operations are becoming increasingly complex because their technology stacks are comprised of an ever-growing patchwork of disconnected business applications, such as Point of Sale (POS), CRM, and inventory management. Nisum's integration capabilities connect these various systems to enable seamless communication between all, which in turn allows retailers to deliver a personalized, omnichannel experience. The need of the hour for modern retailers is a reliable technology partner that not only identifies the best and most suitable technology for them but also brings together their disparate systems to function in a unified and holistic manner. Nisum fulfills this need effectively.
Owing to these abilities and Mohammady's in-depth experience in working with retail companies, Nisum maintains an esteemed clientele consisting of names such as Gap, Macy's, Albertsons, Safeway, William Sonoma, and Walmart, among the list. Over the years, Nisum has established itself as a prominent enabler of digital transformation for retail businesses through its unified commerce solution. The company also serves as the right digital commerce partner for businesses operating in several other industries, including banking, airline, and healthcare by facilitating modernized transaction engagements.
A Unique Value Proposition
From understanding, ever-changing customer behavior to adopting next-gen technologies such as artificial intelligence (AI) and machine learning, business today is complex for the average retailer. A large part of this challenge lies in the common notion that in order to excel in the retail space, companies need to be on top of the latest technologies and have a strong online presence while offering the best in-store experience.
However, these front-end business aspects are merely the tip of the iceberg. It is equally important that retailers also maintain a robust back-end system. Nisum ensures this balance by offering a capable back-end system that encompasses everything from inventory management and logistics to order management and pricing system.
"The front and back end capabilities that we provide our clients, along with the ability to integrate all the individual enterprise systems to create a holistic commerce model is our unique differentiator and value proposition," explains Mohammady.
A holistic commerce partner, Nisum's service offerings comprise both business and technology aspects. From a business standpoint, Nisum employs qualified consultants that help a client's team evaluate and resolve their business demands. Leveraging the client's team's experience, our consultants collaboratively help them define business goals and work closely with them to achieve the objectives. Mohammady adds, "What sets us apart from the rest is that most of our peers are either focused on the strategic or technical aspect of their offerings, whereas we provide true partnership to our clients: we understand the market demands, we dig into the problem statements and/or business requirements our clients are trying to solve, and then solve those problems so that our clients can advance toward achieving their organizational and market goals."
Nisum's team also assists a multitude of customers in transitioning from omnichannel to unified commerce. By evaluating the gap between a customer's business domain and the system requirements, the company devises a strategy for the customer to succeed, from both a technology and business perspective. Nisum also helps clients in their migration to cloud platforms. The company enables organizations to perform an application assessment for cloud readiness while modernizing the applications and defining the migration strategy to run them in the cloud platform. Nisum designs secure, scalable, and high-performing applications for clients and employs its proprietary head-start framework to fast-track a customer's migration process.
Cloud costs can be significantly staggering if not strategically optimized at the outset. Nisum helps customers in right-sizing their investments for the automated provisioning and de-provisioning of resources. Moreover, the company follows such best practices as least privilege, traceability, federated identity, and gatekeeper, while assisting clients in securing all their resources, whether internal or edge, through SSO and authentication.
The team at Nisum also enables its clients to set up their own DevOps systems, while providing them everything from automation testing to internally developed tools. The company's team shares a common belief that DevOps can foster cultural change and increase collaboration by breaking down silos and promoting an environment of shared responsibility. And automation is the cornerstone of the DevOps culture as it facilitates this collaboration.
With this organizational ethos, Nisum maintains a collocated work environment across three different locations worldwide—Chile, India, and Pakistan—facilitating exceptional coordination between their onsite development and remote teams. Moreover, the company employs its proprietary agile methodology—Agile Next Door™—to help break down cultural barriers between team members located around the world and deliver value to customers in a timely and cost-effective manner.
A Constructive Engagement
Citing an example of Nisum's unique business value, Mohammady narrates the company's work with a customer that was struggling with the transition to an omnichannel retail system.
The client wanted to revamp everything from their inventory management system to the order management system. However, it seemed to be a challenging endeavor as the customer's existing software was unable to process a large number of transactions on an hourly basis. On top of that, replacing their systems with a new one was not a viable option. After the failure of several implementations by various other vendors and spending millions of dollars for no returns, the customer sought Nisum's help to resolve the problem.
The team at Nisum closely studied the customer's problem statement and within a period of merely eight to nine months, delivered a solution with a completely automated and flawless inventory management system and a new order payment system. Nisum's solution turned out to be beneficial for the client as it processed thousands of transactions within minutes.
"We adopt a holistic approach toward addressing the different challenges of our clients through one robust solution," says Mohammady. "Nisum is highly invested in the success of its clients and thus treats them as partners rather than customers. We always ensure that our services will benefit clients not only today but also in the long run."
As a renowned digital commerce company, Nisum is currently focused on the ongoing transformations led by the implementation of AI and machine learning technologies in retail and other sectors.
"In the next 18 months, we will be highly focused on rolling out new ways to incorporate and integrate AI and machine learning as part of our strategy focused on next-gen technologies to expand our offerings and bring them to our digital customers," concludes Mohammady.