EVP of Growth & Delivery at Nisum, Sajid Mohamedy's article was published in a Forbes, "Redefining The Holiday Shopping Season Amid A Changing Retail Landscape." Continue reading below or read it on Forbes here.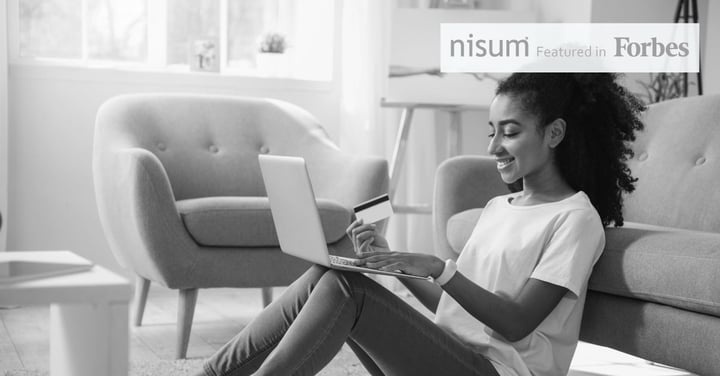 ---
2020 has already been an unprecedented year for retailers. As we approach the holiday season, how will the pandemic affect what has traditionally been their busiest time of year?
Setting The Context
Black Friday shopping at brick-and-mortar stores fell 6.2% last year. Even before the pandemic, consumers were moving away from the trend of flocking to stores on Thanksgiving and Black Friday, an idea underscored by recent announcements from Best Buy, Target, Walmart and other large retailers that stores will remain closed on Thanksgiving for the first time in decades.
And while we saw Black Friday online spending surge to a record $7.4 billion last year, Prime Day in July 2019 saw similar spending, with an estimated $7.16 billion in sales. The holidays will likely always see an uptick in spending, but retailers are also having to adjust to a calendar with more than one "peak spending season" throughout the year.
However, as we know, any sort of natural progression toward this new retail landscape was completely upended and accelerated by Covid-19. A growing number of brick-and-mortar retail locations have completely shuttered, and for retailers that remain operational, digital commerce became the entirety of their business during pandemic peaks. While physical stores in some places are beginning to open back up at varying rates across the country, retail is likely not returning to "business as usual" anytime soon.
The following considerations can help retailers plan for the 2020 holiday season, but also, the new retail reality that is emerging in the aftermath of the pandemic.
Digital Commerce Fit For 2020 And Beyond
This is a no-brainer. Retailers have to have their channels firing on all cylinders to accommodate changing regulations, consumer preferences, and the possibility of a second wave of Covid-19 this fall.
This means ensuring you have robust e-commerce experiences across mobile, web and app, as well as a connected backend that supports home delivery, curbside pickup, in-store pickup, etc. You need experiences that are both seamless and safe for consumers and retail employees.
Supply Chain
As factories and manufacturing plants were shut down during the initial wave of the virus, retailers saw this reflected as empty shelves and low inventory. Consumers have experienced unprecedented out-of-stocks and shipping delays.
The economy is opening back up — in fits and spurts — but retailers must be prepared for future manufacturing shutdowns and potential inventory shortages with any sort of resurgence of the virus. This may mean diversifying sourcing options and working with a variety of suppliers/manufacturers to reduce the risk of supply chain disruptions during the holidays.
Inventory
Retailers are making decisions now for the holiday season and are faced with new inventory challenges as a result of the pandemic. How much inventory should they stock, and in what categories? Will people still be primarily looking for essential goods, or will traditional holiday categories like luxury and apparel goods, open back up?
It's difficult to make projections given how rapidly things are changing. What retailers can do is double down on their ability to quickly pivot in the face of these changes.
For example, an agile inventory management system may route in-store stock that is in low demand in some geographies to areas that are experiencing higher demand given how acutely the virus is affecting an area at any given time.
Consumer Sentiment
A recent survey of U.S. consumers found that 51% of respondents plan to start their holiday shopping earlier this year, to account for potential shipping delays, and 76% indicated that the majority of their shopping will be online. Of those surveyed 57% said that gifts will be sent directly to recipients this year.
In addition to these new shopping habits that have emerged as a result of the virus, retailers must also account for disparate attitudes toward spending this season. As consumers have been affected on an individual level by the virus, some may be scaling back spending while some may be ready to release pent up demand.
Looking Ahead
Much uncertainty remains around the trajectory of the global pandemic. Retailer leaders should prepare contingency plans for their contingency plans now to make sure they're able to pivot quickly and adapt to any given scenario that may arise in the coming months.
This applies not only to the holiday season but moving ahead to 2021 and beyond. While just last year retailers may have viewed digital and agile as longer-term goals to be achieved gradually, these capabilities are now mission-critical.